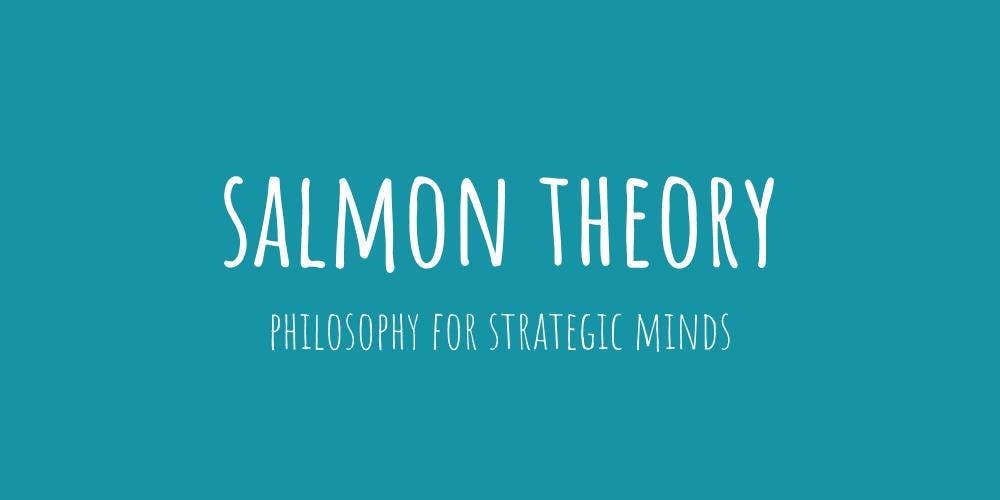 Hello!
Welcome to Salmon Theory, a weekly slice of philosophy for strategic minds.
I'm Rob. Thank you for your attention. Let's do this.
---
🔍 Here's the thing
This week's guest is the one and only Derek Walker.
I don't know Derek personally, but I know him from Twitter.
And from past podcast interviews.
And from this IsolaTED Talk (which almost brought me to tears).
He's the owner of his own agency, Brown and Browner Advertising.
And he has no problem telling it how it is.
That alone deserves respect in an age of wishy-washy arguments and excuses.
And it meant that an interview with him was a no-brainer.
So without further ado, let's get into it.
Ladies and gents: Derek Walker.
Welcome, Derek. How did you get to where you are?
I took the long way around. I graduated from college, the University of South Carolina, and just knew I would take the advertising world by storm.
… Nope.
It took me 11 years, and attending the Portfolio Center in Atlanta, GA, to get me my first job in advertising. From there, a series of really good and really bad jobs convinced me to open my own agency.
I've always planned to have my own shop. My plan was to save up while working for an agency, and convert freelance clients into agency clients. But what does that joke say? "If you want to make God laugh, tell him your plans."
The crash of 2008-2009 came, and before I could complete my plan, I was laid off. Not fun. So, I thought about trying to find another job but it didn't feel right. I decided to do the crazy thing and open an agency during a recession. And ta-da, here I am.
Why do you do what you do?
Why not?
Advertising when done right is "the most fun you can have with your clothes on." Thank you, Jerry Della Femina, for the quote. But it is true. Especially if you are naturally curious. I have had the pleasure of learning about so many brands, products and most importantly people thanks to advertising.
How do you speed your brain up?
Wait – it can go faster? That isn't a problem for me. I am always humming along. There are so many things going on inside this big, ol' head, that I am amazed I get any one thing done. I'm always thinking.
How do you slow your brain down?
I'm not sure. Even when I want to slow down, I struggle doing so. I use deep breathing to help but most of the time I am going at warp speed.
Which two fields should talk more to one another? What should they talk about?
Religion and marketing/advertising. That is really three, but marketing and advertising are inter-connected.
What they should talk about is how religion has discovered a way to create true believers who are willing to hold to their beliefs no matter what. Religion has figured out how to get people to not only believe in their teachings but to act on it and spread it for free! What company or brand wouldn't love customers like that?
Religion's understanding or connection to the human condition is amazing to consider. How many so-called gurus and thought leaders are trying to duplicate for marketing/advertising what religion has already mastered?
I think ultimately they fail because they aren't true believers, they are doing it for the check. The more successful people believe what they are saying and it creates more true believers. Consistency and honesty are key.
What's something everyone could do with a bit more of?
Curiosity and empathy.
What's something everyone could do with a bit less of?
Ego and pride.
What's the last thing you changed your mind on?
Whether to say something or not. I fight with myself a lot about what to say, or not say. I like to say I have "filter issues", but the truth is I filter a lot of what I say. It's a daily thing for me. I have to make sure that I don't say something to hurt a person or take their dignity from them. I can be intense, and in that intensity tact may go missing.
Everyone's a bit mad. How are you mad?
I am a Black man in America. Any Black man in America who is not mad, ain't paying attention. The list is too long. And that makes me even madder.
If you mean madness as "crazy"… I tend to see negatives first. I focus on problems and issues because if we can identify them, the positive stuff is easy. Plus it makes the message stronger. Also, I'm an "on or off" type of person. Either I'm engaged in something or I'm not. And with my short attention span, that makes things "interesting".
What gives you hope?
God. My faith. My loved ones.
Thank you Derek!
---
🍬 Link love
---
😽 Furry feels
---
Stay safe. Stay sane.
Send replies, I like hearing from you. 😘
Rob
PS: See you on Twitter.